Goa always remains top on the bucket list majorly on the youth generation. If you are a school or college student, you must have made a plan to visit this party capital of India. Are you a person whose Goa plan got cancelled?
In student life, the majority of the time, our plan to Goa gets cancelled due to budget constraints. There is a misconception among people that accommodation and food in Goa is very expensive. However, there are a few best places to stay in North Goa for Students that offer affordable and cheap stays.
Today, in this blog we are going to talk about Anjoned Hostel & Cafe which is a backpacker hostel in North Goa. This property located near Anjuna Beach is a favourite place to stay in Goa for youth who are finding a cheap accommodation. So, let us discuss why Anjoned can be an ideal option to stay in Goa if you are finding a budget-friendly place to stay.
Contact us for more information: +918830203971
Why Anjoned Hostel is the Best Place to Stay in North Goa for Students?
1. Located in the Heart of Goa
Anjoned Hostel is located near the Anjuna area which is famous for its vibrant nightlife due to so many nightclubs and cafes. By staying at this hostel in North Goa, you can feel as well as fully enjoy the party vibes of Goa that you have seen in the movies and dreamt of.
Also, the majority of the famous historical places of Goa as well as beaches are there in the Northern part of the state. By staying at this property, you can easily access these major attractions of Goa without spending much on transportation as conveyance in the state is quite expensive.
2. Finest Accommodation
This property in North Goa after being so affordable also offers a wide range of accommodation. If you are a larger group of friends, you can book the whole dorm room for yourself where you will be staying in bunk beds. There are also private rooms and family rooms that you can book as per your requirements.
All the accommodation options are equipped with the finest amenities and there would not be any compromise in the hospitality services that make it the Best Hostel for Staying Near Anjuna Beach, Goa. You will be getting air-conditioned rooms or dorms along with clean linen, a blanket, high-speed wifi, a spacious washroom and last but not least peaceful surrounding.
3. Safest Option for Solo Travellers
Solo travelling among students is becoming highly popular however, safety always remains a major concern in such type of travel. This safety issue majorly impacts female solo travellers. Are you finding which is the best hostel for solo travellers in Goa? Your answer is Anjoned Cafe & Hostel as they always prioritize the safety of their guests.
The staff of this property is trained in such a manner that they take care of the safety of each guest. Whenever they suspect any suspicious incident, it will be directly reported to their manager. If as a traveller, you face any safety issue with any of the co-guests or staff members, they can approach the hostel authorities.
4. Enjoy Various Activities Along With Accommodation
Along with accommodation, you can also enjoy various indoor games in their common area. If you are a social person, you can become friends with other like-minded travellers. There are various other activities to enjoy in North Goa that can be experienced at Anjoned Hostel.
The management of this hostel organizes regular parties, movie nights, cultural tours and other recreational activities to make the vacations of their guests more memorable and cherishing.
5. Boasts the Best Cafe and Bar in North Goa
There are so many cafes in North Goa however, finding the best one with affordable prices is a complex task. Anjoned is the best cafe near Anjuna Beach where you can enjoy the mouthwatering Goan cuisine as well as get booze with local and international alcoholic & non-alcoholic drinks.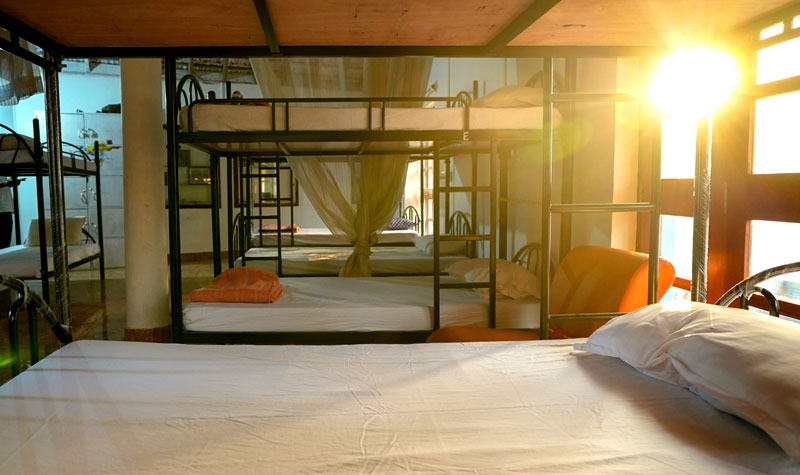 Final Thoughts
After so many reasons, you must be convinced why we have tagged Anjoned as the best place to stay in North Goa for students. Be it in terms of budget-friendly accommodation in North Goa or hospitality or amenities, this property always gets full marks.
We can assure you that by planning your stay at this hostel in North Goa, you will be able to feel the real essence of Goa. Get the best experience in your upcoming vacation and make your student life exciting by planning a trip to the party state of India.