For travellers seeking a perfect blend of serenity, adventure, and a vibrant atmosphere, North Goa's Anjuna Beach is an absolute paradise. And if you're searching for the best hostel near Anjuna Beach as you are on a budget trip to Goa, look no further than Anjoned Hostel.
Offering an exceptional experience for backpackers and solo travellers, Anjoned Hostel is a hidden gem that ensures an unforgettable stay in Goa. So let us explore certain reasons why this is the best backpacker hostel in North Goa.
Call/Whatsapp Now to Book Your stay: +918830203971
Why Anjoned is the Best Hostel Near Anjuna Beach?
1. Proximity With the Beach
Anjoned Hostel holds a prime location, just a stone's throw away from the captivating Anjuna Beach. As one of the best hostels in North Goa, its proximity to this famous beach and other renowned beaches of North Goa is a major advantage.
Guests can easily stroll down to the sandy shores to catch breathtaking sunsets, indulge in thrilling water sports, or simply unwind amidst the coastal beauty.
2. Affordable Backpacker Hostel in North Goa
Travelling on a budget? This hostel offers the perfect accommodation solution for backpackers seeking comfort without breaking the bank. The hostel provides dormitory-style rooms that are clean, cosy, and reasonably priced.
With a focus on creating a social atmosphere, it allows travellers to connect with like-minded individuals from around the world, fostering unforgettable memories.
3. Safe Place to Stay for Solo Travelers in Goa
Solo travellers visiting Goa often seek a safe and friendly place to stay. This backpacker hostel near Anjuna Beach offers a warm and welcoming ambience ensuring solo travellers feel at home from the moment they step in.
The hostel's helpful staff and fellow guests create a supportive community, making it an ideal place to meet new friends and explore Goa together. This is the safest place to stay for solo travellers.
4. Near Famous Tourist Places of North Goa
Beyond Anjuna Beach, Anjoned Hostel is conveniently located near various famous tourist spots in North Goa which makes it the best hostel near Anjuna Beach. Whether it's the vibrant flea markets of Anjuna and Mapusa, the historic Chapora Fort, or the lively nightlife of Vagator, all are just a short distance away. This makes Anjoned Hostel the perfect base for exploring the historical places of North Goa.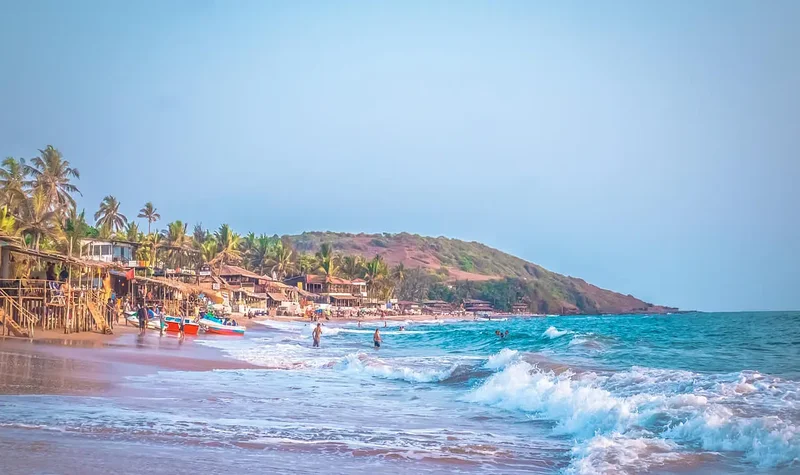 5. Enjoy the Goan Cuisine at Affordable Rates
No trip to Goa is complete without savouring its delectable cuisine. Anjoned Hostel makes it easy for travellers to indulge in authentic Goan dishes without straining their wallets.
Nearby eateries and beach shacks offer a delightful range of Goan delicacies at affordable rates, allowing guests to relish the true flavours of this coastal paradise.
Final Words
For an unparalleled experience for a backpackers hostel near Anjuna Beach, North Goa, Anjoned Hostel stands as the ultimate choice. Whether you wish to bask in the beauty of Anjuna Beach, explore North Goa's historic sites, or simply immerse yourself in the Goan culture,
This property offers the perfect gateway to an unforgettable Goan adventure. So, pack your bags, head to Anjoned Hostel, and let the charm of Anjuna Beach and Goa mesmerize you in its unique way.