Whenever we go on vacation to a new place, one of the things on our bucket list will be to try the best food joints in that place. Goa is the party capital of India which attracts millions of global tourists every year. Being the smallest state of India, it is having the highest diversity in its food where you can find food belonging to every part of the world. However, finding the right place to eat in Goa is as complex as finding a needle in a haystack.
It would not be a surprise if you are visiting Goa and looking to find some of the best restaurants in Anjuna North Goa. If you are looking for the same, through this blog we are here to provide you with a list of the top 10 restaurants in Anjuna beach North Goa.
Anjoned Cafe in North Goa
If we are talking about the best places to eat in North Goa, Anjoned Cafe always tops the list. This cafe is located just within the walking distance from Anjuna beach. Here, you can get multi-cuisine food at very affordable rates that do not make a hole in your pocket.
The unique thing about this restaurant cum cafe is that it always remains packed with guests hence. There is 0% possibility that you will be served any leftover food. All the food that they serve to their guests will be freshly prepared.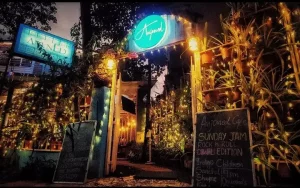 Here, you can enjoy authentic Goan dishes or any other Indian or international dishes that will satisfy your appetite and help you in making your vacations more memorable. Their highly trained chefs are experts in serving mouthwatering dishes to the guests.
Contact us for more information: +918830203971
If you are looking for the best hang-out place in North Goa. There would not be a better place than Anjoned as you can socialize and spend some great time with your friends enjoying finger-licking food.
They are also having an in-house bar that offers alcoholic as well as non-alcoholic drinks. If you are in Goa, your vacations are incomplete without getting booze in the party capital. Here at Anjoned Cafe, you can enjoy local as well as imported drinks to make your vacations an unforgettable affair for a lifetime. This cafe can also be tagged as the best rooftop bar in North Goa near Anjuna beach. Other than the food, they organize music concerts and happy hours for their guests at regular intervals.
The icing on the cake is that you can easily access this cafe as it is located in one of the most prominent localities of Goa. If you are looking for accommodation too at Goa, Anjoned Cafe is among the top 5 best hostels in Anjuna Beach North Goa.
Chef Cantado
Chef Cantado is also one of the best restaurants in Anjuna Beach North Goa. They serve the best delectable food in Goa. If you want to enjoy Karaoke, this place will not be less than heaven for you as they organize Karaoke every Tuesday night.
Artjuna
If you are looking for the Best Family Places and cafe that serves quality food, you should try a meal at Artjuna. Their all-day breakfast menu is having a variety of dishes that will blow your mind and enhance your appetite to try mouthwatering food. The icing on the cake is that all the dishes on their menu are healthy as well as equally delicious as their food menu is filled with lots of smoothies and healthy fruit juices.
Eva Cafe
This cafe is tagged as one of the best cafes in Anjuna North Goa as it is the perfect blend of the finest food and exceptional view. Some of the dining tables here face the Arabian Sea which would make your dining experience more fascinating.
Purple Martini
Purple Martini is the best restaurant in Anjuna Beach North Goa. This cafe cum restaurant is a few steps ahead of Eva cafe with the white chairs and blue cushions you will be getting the vibes of Greece once again.
Lila Cafe, Anjuna
If you are looking for the best restaurants in Anjuna Beach North Goa, you cannot miss Lila Cafe. This cafe cum restaurant is specialized in offering European food that was inspired by shacks. This cafe serves the perfect blend of healthy and delicious food.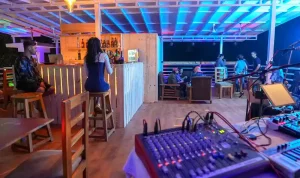 For more information Contact us: +918830203971
Baba Au Rhum
Baba Au Rhum holds a prominent place in the list of 5 best cafes in North Goa you must take a visit. It would not be an exaggeration if we tag this cafe cum restaurant as one of the best-hidden secrets of the Portuguese paradise.
Piccola Roma
The Piccola Roma is a restaurant located in the Vagator area which is an adjacent area of Anjuna. You should visit this restaurant if you want to try authentic Italian pizzas cooked on a wood fire over.
Nata Goa Cafe
Are you looking for authentic tasty Portuguese food? Just give a visit to Nata Goa Cafe to enjoy mouthwatering food. This is one of the best cafes in Anjuna where you can have delicious food at very pocket-friendly rates. Reaching there is highly easy as this café is located just 3 minutes walking distance from Anjuna beach.
Oasis Café
Oasis cafe is unique in its way. This is one of the best places to eat in Anjuna North Goa. This is the finest unassuming cafe that serves a wide-ranging menu to satisfy your appetite.
Why Choose Anjoned
Anjoned is the best backpacker hostel in Anjuna North Goa that is sure to make every movement of your trip memorable.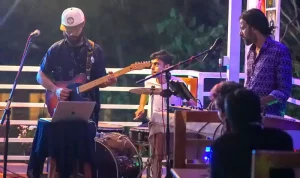 Anjoned Cafe & Hostel has been efficiently satisfying its visitors on every front. Be it a cheap and comfortable stay, WiFi connection, multi-cuisine food, drinks, or an amazing place to relax. This place offers everything you could wish for. All in all, it makes your trip to Goa one to remember.
Book your stay now: +918830203971
Goa is known for its vibrant culture and Anjoned makes it possible for you to feel the same. It maintains a tourist-friendly aura and also makes the atmosphere very ambient. Also, it allows you to be pleased with the karaoke performance as well as various other functions.
Here the lobby is an area where a lot of like-minded people come together. Also when this happens, the whole atmosphere becomes more intense. Anjoned ensures that every guest sees the true appeal of Anjuna and Goa.
Final Words
Now you have a huge list of the Best Restaurants in Anjuna North Goa. Out of these above-mentioned cafes, we recommend you to visit Anjoned Cafe for sure. This cafe has topped the list of the best cafe in Goa due to various reasons such as its location, quality of food, variety of dishes, and the hospitality services offered by the staff.
So do visit this cafe on your next Goa trip to get an unforgettable experience in a pocket-friendly manner.
Contact Us:+918830203971