After the Covid-19 pandemic, working from home for working professionals has become a new normal. Many companies have adopted a remote or hybrid working model to give flexibility to their employees so that they can work from the comfort of their homes.
However, discharging your job responsibilities from your home can appear lucrative prima facie at the first instance however, it comes with lots of challenges. You can get bored with the monotonous work from your home. Also, working from home can make you anti-social. Due to this, professionals are heading towards tourist destinations to rejuvenate their minds.
Goa is one such major tourist destination in India that fascinates working professionals from all over the world. Due to this, there are ample numbers of co-working places in North Goa where you can complete your professional commitments along with chilling and exploring Goa.
Call/Whatsapp Now to Book Your stay: +918830203971
Anjoned Hostels is the best work-from-home place near Anjuna Beach where guests can plan their stay and can do their job-related work efficiently. The vibes of this place are perfect which makes this the ideal co-working space in Anjuna.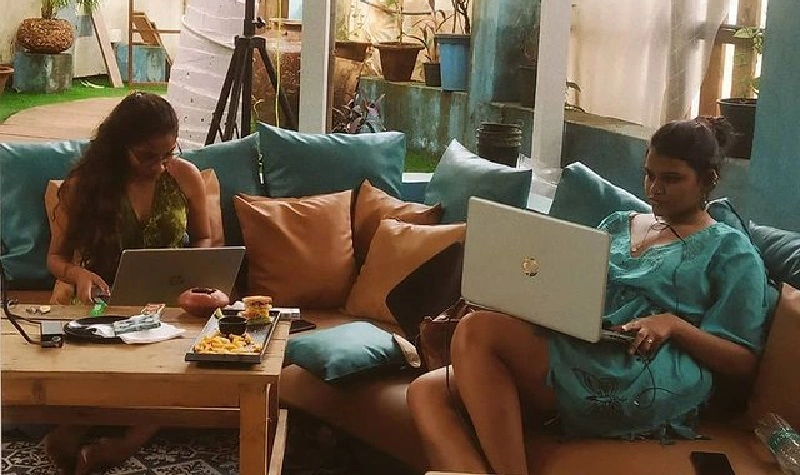 So let, us explore some of the reasons why this is the best work-from-home place in North Goa.
Reasons why Anjoned is the best work-from-home place in North Goa
Anjoned Hostels & Cafe offers a strong Wi-Fi connection to their visitors, enabling them to perform their work tasks conveniently in this digital age where everything is accessible online. It enables people to use their laptops and mobile devices for their job-related tasks efficiently.
Do you find yourself feeling uninspired working in the same location every day? Are you seeking a place that offers a comfortable and flexible atmosphere reminiscent of home? Look no further than Anjoned Cafe & Hostels, where a tranquil ambiance is provided for all guests.
The hostel's common areas are available for guests to work and interact with each other, creating a positive co-working environment. This allows individuals to finish their job-related responsibilities while also connecting with others and exchanging ideas.
Power outages can be a significant obstacle for professionals working on critical tasks. By utilizing a co-working space in North Goa, individuals can rest easy knowing that the facility has a power backup system in place. Anjoned, located in Anjuna, North Goa, is considered the top hostel in the area due to its exceptional amenities, including a reliable power backup system for its customers.
Located in a Prime Location in North Goa
Anjuna Beach is a highly sought-after tourist destination in Goa. Anjoned Cafe & Hostels is regarded as one of the backpacker's hostels in North Goa due to its prime location just 500 meters from this popular beach. Remote workers can take advantage of this location by visiting the beach whenever they need to unwind during their hectic work schedule. The serene atmosphere of the beach can provide a relaxing respite from work-related stress, making it an ideal place to recharge and refresh before returning to work.
Final Words
Anjoned Cafe & Hostels offers all the essential amenities that an excellent co-working place in Goa should have, making it the premier work-from-home place in Anjuna. We highly recommend that you experience remote working at this location, as we are confident that you will be impressed with the facilities and services provided. Whether you're a digital nomad or remote worker, Anjoned Cafe & Hostels is the best hostel in north goa and can provide you with the ideal work environment to maximize your productivity and achieve your goals along with pocket-friendly accommodation in North Goa.
If you are planning to visit Anjuna, get your stay fixed with us. You will get a memorable experience for sure. Feel free to call us +918830203971