Summer has approached and you must be looking for a much-needed trip in these upcoming vacations. If you are tight on the budget and looking for a pocket-friendly trip, we recommend you to head towards Goa as summer is the off-season there and you can feel the vibes of this party capital without making a hole in your pocket.
One of the best ways to enjoy the best summer vacation to the fullest is to book your stay at a Best Backpackers Hostel in North Goa. If you are confused about which is the best hostel in North Goa, no worries, we are here to assist you.
In this blog, we will tell you about Anjoned Hostel & Cafe which is a place to stay near Anjuna Beach known for offering affordable accommodation along with exceptional hospitality services.
Contact us for more information: +918830203971
Anjoned is Synonymous with Comfort
Your trip to a new place will get some sparkling stars if you get the perfect blend of luxury and comfort at your chosen place of stay. Anjoned gets full marks in offering a comfortable stay to their guests with their mind-blowing hospitality.
They offer a wide range of accommodations to their guests that they can choose from as per their requirements and budget. Goa's summer is scorching one and by keeping this in mind, all the accommodation as well as the common room has air-conditioning to protect you from the high temperature.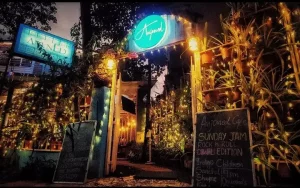 A Great Place to Socialize
Finding the best place to socialize in North Goa is as difficult as finding a needle in a haystack. However, if you are at Anjoned Hostel, it is easy at eating a piece of cake. Due to the large number of guests visiting this hostel in North Goa, you can be able to socialize with them in common areas or their cafes. This property gives you a fair opportunity to become friends with other like-minded fellow travelers.
This backpackers hostel in Anjuna welcomes guests from all parts of the world. Due to this, you will be having the great opportunity to know about people belonging to different cultural, ethnic, and social backgrounds.
The management of this property also organizes regular events of concerts, movie nights, and other activities for their guests to spend the best summer vacation in Goa.
Spend the Evening at Their Cafe cum Bar to Rejuvenate
Anjoned also boasts about their best cafe in North Goa where guests can spend a beautiful evening and enjoy mouthwatering dishes from around the globe. Have you heard that a Goa trip is incomplete without getting some booze? Yes!!!!!!! this property takes this very seriously and offers its guests various alcoholic as well as non-alcoholic drinks.
Explore the Nearby Famous Places of North Goa
North Goa is preferably visited by more tourists as compared to its counterpart, South Goa. The majority of the tourist attractions of Goa are located in the Northern part of the state. By staying at this Backpackers Hostel in Anjuna, North Goa, you can visit almost all the culturally significant tourist attractions, famous beaches such as Anjuna & Vagator, renowned clubs and casinos, and famous night markets such as Anjuna Flea Market.
Final Words
So are you ready to head towards Goa? By knowing so many exciting things about Anjoned Hostel & Cafe, you must be excited to enjoy the best summer vacation this time in North Goa. So enjoy your upcoming trip by staying at this best hostel in North Goa and filling up the bucket of your mind with lifetime memories.
Contact Us:+918830203971