Goa, India's beach paradise, is known for its stunning coastlines, vibrant culture, and delicious cuisine. Among its many picturesque beaches, Anjuna Beach in North Goa stands out as a favourite destination for tourists and locals alike.
While you're basking in the sun and enjoying the cool breeze at Anjuna Beach, you'll undoubtedly work up an appetite. Luckily, the area is home to some fantastic cafes that offer not only delicious food but also a laid-back ambience.
In this blog, we'll explore the 5 best cafe in North Goa, ensuring your taste buds, affordability and Instagram feed are equally satisfied.
Top Cafes Near Anjuna Beach
1. Anjoned Hostel & Cafe - Budget-Friendly Cafe in North Goa
If you're looking for a cafe that offers scrumptious food without burning a hole in your pocket, Anjoned Hostel & Cafe is the place to be. This cosy little gem is known for its budget-friendly menu, making it a top choice for backpackers and travellers on a budget.
Despite its affordability, Anjoned Cafe in Anjuna doesn't compromise on taste or quality. Their menu boasts a delightful selection of Goan and international dishes. Whether you're craving a classic Goan fish curry or a hearty burger, you'll find it here.
Must-Try: Their breakfast options are a hit among visitors, and you can't go wrong with the classic English breakfast or a stack of fluffy pancakes.
2. Sort By Stays Cafe - Best Place to Eat Near Anjuna Beach
Sort By Stays Cafe is the ultimate destination for foodies seeking a diverse and delectable menu. This cafe is known for its culinary excellence, offering an array of global cuisines that cater to every palate at very affordable rates.
The cafe's cosy and inviting ambience, combined with its attentive staff, makes it a perfect spot for a leisurely meal. Whether you're dining solo, with friends, or with family, Sort By Stays Cafe provides an enjoyable dining experience.
Must-Try: Don't miss out on their wood-fired pizzas and the fresh catch of the day, prepared with a Goan twist that's hard to resist.
3. Baba Au Rhum, Bardez
Located just a short drive from Anjuna Beach, Baba Au Rhum in Bardez is a charming French bakery and cafe in North Goa. Known for its delightful pastries and bread, it's a haven for those with a sweet tooth.
The cafe's warm and welcoming atmosphere, complete with the aroma of freshly baked goods, draws in visitors seeking a tranquil place to enjoy a cup of coffee and a pastry.
Must-Try: Indulge in their freshly baked croissants and pair them with a cup of aromatic coffee for a perfect morning.
4. Lila Cafe, Anjuna
It is a Place to Socialize with Friends in North Goa. Lila Cafe in Anjuna is a trendy spot where locals and tourists come together to enjoy great food and good company. With its relaxed atmosphere, it's an excellent place to socialize with friends.
Whether you're looking to meet new people or simply unwind with your pals, Lila Cafe offers an inviting setting. The cafe's friendly staff and live music performances on certain nights add to the overall experience.
Must-Try: Try their Mediterranean-inspired dishes like falafel wraps and mezze platters. And don't forget to sip on their refreshing smoothies.
5. Eva Cafe
Eva Cafe, nestled by the cliffs overlooking Anjuna Beach, offers breathtaking views and a serene atmosphere. It's the perfect place to unwind after a day in the sun.
The cafe's idyllic location makes it a popular spot for visitors seeking tranquillity and awe-inspiring vistas. Whether you're seated on the open-air terrace or in the cosy indoor seating area, you're in for a treat.
Must-Try: The seafood options at Eva Cafe are exceptional. Treat yourself to their grilled fish or prawns while you savour the stunning sunset views.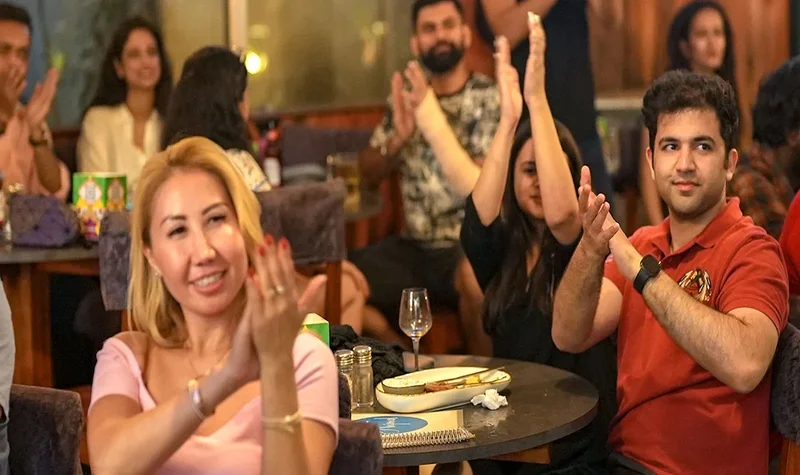 Final Words
Anjuna Beach is not just about sun and sand; it's also a culinary paradise waiting to be explored. The Cafes in North Goa mentioned in this blog offer a wide range of flavours and experiences, ensuring there's something for everyone. Whether you're a budget traveller, a food enthusiast, or someone looking to socialize with friends, these cafes near Anjuna Beach in North Goa have got you covered.
So, the next time you find yourself in this beautiful corner of India, make sure to indulge in the delightful offerings of these affordable cafes near Anjuna beach for an unforgettable experience. From budget-friendly options to culinary excellence and breathtaking views, Anjuna Beach has it all for the discerning traveller and food lover.
Call/Whatsapp Now to Book Your stay: +918830203971