Do you have any plans to spend your vacation in North Goa, a wonderful tourist destination situated on the Western coastline of India? Even though it is the smallest state in the country, it attracts a large number of visitors every year because of its party atmosphere.
If you are a party lover and want to experience the nightlife of Goa, North Goa is the ideal place for you to stay. But choosing the best budget-friendly places to stay in North Goa can be a challenge. Don't worry, we are here to suggest the best option for you in this blog.
Anjoned Hostel & Cafe is a great choice for spending your vacation in North Goa due to its positive vibes and affordable prices. Let's discuss a few reasons that make this property the perfect hostel in North Goa near Anjuna Beach, for an enjoyable holiday.
Contact us for more information: +918830203971
Located at a Prime Location
The location is the primary factor to consider when choosing a place to stay. In Goa, North Goa is more popular among tourists due to its proximity to major attractions. Anjuna and Vagator, located in North Goa, are particularly popular tourist destinations.
Anjuna is famous for its lively nightlife, featuring many popular clubs and parties. Therefore, if you're looking to experience the exciting nightlife in Goa, staying in Anjuna would be the best option. This backpackers hostel in Anjuna, North Goa would be an excellent choice for those who want to enjoy Goa's vibrant nightlife.
Great Place to Socialize
Anjoned Hostel would be a perfect hostel in North Goa to stay near Anjuna Beach, whether you are travelling alone or with your friends. This hostel provides an opportunity to socialize and meet new people while having a great time. By staying here, you can connect with other travellers who share similar interests, which can be an added advantage.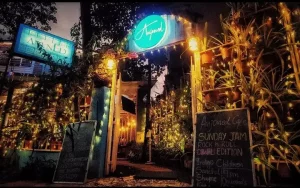 It is an excellent opportunity to expand your social circle and make new acquaintances. You can experience the uniqueness of Goa with a new company, which will make your trip even more enjoyable.
Offers 24x7 Cafe & Bar
Anjoned Hostel and Cafe is considered the top backpacker hostel in Anjuna Beach because of its exceptional services and the availability of an in-house cafe and bar. The cafe offers a variety of mouth-watering multi-cuisine dishes, and live music adds to the ambience.
The in-built bar is open 24/7, and visitors can enjoy a drink of their choice. Being in Goa, one cannot miss out on the chance to get booze and this hostel takes care of this to offer their guests international as well as local alcoholic & non-alcoholic drinks.
Final Words
Based on our discussion, it is evident that Anjoned Hostel & Cafe in North Goa is an excellent choice for your stay. We highly recommend booking your accommodation here as it will enhance your overall experience of visiting Goa, and you will be left with unforgettable memories.
This backpacker hostel in North Goa offers top-notch hospitality services, and its in-house cafe and bar provide a lively atmosphere with delicious food and drinks. We are confident that your stay at Anjoned Hostel & Cafe will be enjoyable and memorable.
So book your stay with this property and fill the bucket of your mind with lifetime memories.
Contact Us: +918830203971