Being the party capital of India and one of the major tourist destinations of the country, Goa can be visited any time of the year. However, the best time to visit North Goa is between October to February as in these months the temperature will be pleasant and it is the peak season in Goa.
In these months the two major festivals being hosted by Goa are New Year & Christmas. Also, the world-famous Sunburn festival takes place in these months. However, if you have not got time during the peak season to visit Goa, you can visit this beautiful state anytime.
There is a famous saying about Goa that it is a tropical paradise where day & night indulge each other to start a never-ending journey of relaxation and rejuvenation. Each season in Goa has its shades. So plan your trip to Goa according to your taste and which season shade you want to witness.
Contact us for more information: +918830203971
Here in this blog, we will explore the climatic condition and other things about Goa in each season and decide the best time to visit Goa that majorly suits us.
Summer Season in Goa (March-June)
The summer season in Goa starts from March till June. The climate in these months will be hot & humid and if you planning to visit Goa during this season, you should avoid visiting the beach during the daytime. However, there is various reason why you should visit North Goa in summer.
The prices of accommodation, water sports, and casino entry fees all will be cheap as these months are considered the off-season in Goa. If you want to enjoy a budget-friendly trip to North Goa, the summer is the best time to visit. Also, you can be able to experience Shigmotsav one of the cultural festivals of Goa held every year in March.
Monsoon Season in Goa (July-September)
You can plan a weekend trip of 3 days to North Goa during the monsoon season. However, it isn't easy to explore the whole state in just 3 days but with the help of a travel guide to North Goa, you can enjoy it to the fullest.
The adventurous water sports activities will be halted during this season as Goa experiences medium to high rains. However, you will love the beauty of North Goa's beaches & green landscapes during the rain.
The Sao-Joao festival is one of several others that are celebrated during this time. Men jump into a well that is overflowing during this festival to collect bottles of the local feni, and there is a great deal of joy and celebration all around. Together with attending festivals, there are many more things to do in Goa during the monsoon, such as go hiking at Dudhsagar Falls. Goa is also quite popular in September because of the widespread post-monsoon bloom.
Winter Season (October-February)
As already mentioned winter months from October to February are the best months to visit North Goa. Around 20 to 22 degrees Celsius are maintained during this period, making it the ideal climate for lounging on the beach in beach shacks and taking in the energetic atmosphere of Goa in the winter.
You can also take part in the fun at the enormous Sunburn festival while sipping a local beverage called feni. This is regarded as the greatest time to travel to Goa for vacations because Christmas and New Year's are also celebrated there in a major way. During Goa's winter season, look forward to wild outdoor parties, late-night flea markets and delectable seafood.
The ideal season to go water sports in Goa is winter when you can go water skiing, scuba diving, parasailing, fishing, windsurfing, and water scootering. As a result, Goa is the ideal location for a party at any time of the year because of the vibrant and boisterous local atmosphere.
Book your stay now: +918830203971
Where to Stay in North Goa?
North Goa is a place where you can find an ample number of accommodations near beaches. Majority of the domestic as well as international travellers look for cheap & comfortable places to stay in North Goa.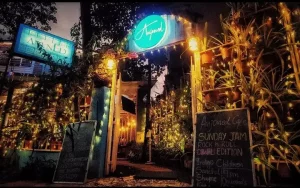 Due to this, there are numerous backpacker hostel in Anjuna North Goa where you can plan your accommodation. However, choosing the best one is similar to finding a needle in a haystack. To simplify your planning, we recommend you book your stay at Anjoned Hostels, the best hostel in Anjuna, North Goa. Here you can book dorm rooms or private rooms or family rooms at very affordable rates. All types of accommodation come with the finest amenities & hospitality services.
If you are a female solo traveller, Anjoned offers a safe place to stay for solo travellers as it prioritizes the safety of their guests. They have an in-house cafe, one of the best cafes in North Goa that serves their guests finger-licking dishes & drinks around the clock. The management of this hostel organizes various activities for their guests such as cultural Goa tours, movie nights, concerts etc to add some more stars to your Goa vacations.
Final Words
Now you must be clear that the best time to visit North Goa can vary from person to person and you can feel the real essence of Goa at any time of the year. It is totally upon you which month you choose as each month in Goa has something unique to offer to its guests.
Plan the ideal Goan vacation to this lovely location and unwind on the beaches, celebrate all night, and tour the ancient forts and cathedrals of this unique state. You may make the most exotic memories while on vacation in Goa, which is something you will undoubtedly remember for the rest of your life.
Contact Us: +918830203971