Goa, known for its beautiful beaches, laid-back atmosphere, and fascinating nightlife, is a destination that attracts travellers from around the world. Among the many picturesque locales in Goa, Anjuna stands out for its unique blend of scenic beauty, cultural richness, and a happening nightlife.
If you're seeking a place to relax and unwind while experiencing Goa's true spirit,
Here Are Some Of The Best Places To Chill in Anjuna.
1. Anjoned Hostel & Cafe: A Hidden Paradise
Anjoned Hostel & Cafe is a hidden paradise for travellers seeking a unique and tranquil experience. Tucked away from the crowded areas, this backpacker hostel in North Goa offers a serene ambience that's perfect for relaxation.
Their in-house cosy cafe in Anjuna serves up delectable Goan and international dishes, and you can savour your meal while enjoying the serene views of the surrounding greenery. The hostel's well-maintained common area and comfortable dorms provide the perfect backdrop for travellers looking to unwind in a peaceful environment.
With its friendly staff and relaxed vibe, Anjoned Hostel & Cafe is a must-visit spot for those in search of an offbeat, chill experience at affordable cost. Here, you can stay, socialize, dine and relax without making a hole in your pocket. The icing on the cake here is that this is one of the safest places to stay in North Goa for female solo travellers.
Mail us to book your stay at Anjoned Hostel & Cafe - [email protected]
2. Anjuna Beach: A Classic Retreat
Anjuna Beach is the heart of this coastal village. It's renowned for its laid-back, bohemian atmosphere and rocky outcrops. The beach is the perfect place to relax, soak up the sun, and enjoy the cool sea breeze.
You can also explore the vibrant flea market that sets up shop every Wednesday. This market is a treasure trove of clothing, jewellery, and trinkets. After a day of sunbathing, the beach shacks come alive with live music and some of the best seafood in Goa.
3. Curlies Beach Shack: A Beachfront Haven
Curlies Beach Shack, a legendary establishment, has been an integral part of Anjuna's party scene for decades. It's known for its eclectic ambience, excellent food, and beachfront location.
Whether you want to chill with a cocktail, enjoy live music, or indulge in sumptuous seafood, Curlies has it all. The relaxed, bohemian setting, with the Arabian Sea as your backdrop, makes it an ideal place to unwind and take in the beautiful Goan sunset is a must-visit place in North Goa.
4. Shiva Valley: Anjuna's Trance Haven
If you're into trance music and want to chill in an environment that embodies Goa's party spirit, Shiva Valley is a must-visit. Located close to Anjuna Beach, this open-air venue is famous for its trance parties and the beautiful "Dancing Shiva" statue.
With themed party nights and an enthusiastic crowd, it's the perfect place to let loose and embrace the Goan vibe.
5. Wednesday Flea Market: A Shopper's Delight
Anjuna's Wednesday Flea Market is an iconic attraction that brings a slice of Goan culture to life and is one of the best places to visit in Anjuna. If you're a shopaholic looking for unique clothing, jewellery, handicrafts, and souvenirs, this is the place to be. You can find everything from bohemian clothing to antique items.
It's not just a shopping experience but also a vibrant social event where you can interact with local artisans and fellow travellers.
6. Sweet Lake: A Hidden Oasis
Sweet Lake, also known as Vagator Lake, is a serene, hidden oasis located near Anjuna Beach. This freshwater lake is surrounded by lush greenery and is a serene contrast to the lively beach scene.
You can rent paddleboats, swim, or simply relax on the banks and enjoy the tranquillity. It's a perfect escape for those who seek a peaceful retreat amidst nature.
Call/Whatsapp Now to Book Your stay: +918830203971
7. German Bakery: A Culinary Haven
No list of the best places to chill in Anjuna would be complete without mentioning the iconic German Bakery. This charming bakery and cafe have been serving delicious pastries, coffee, and European cuisine for years.
Its relaxed, garden-like setting is perfect for enjoying a leisurely breakfast or a cosy evening. Don't forget to try their delectable desserts and enjoy the laid-back atmosphere that makes it a beloved spot in Anjuna. It's one of the most affordable places to eat in North Goa.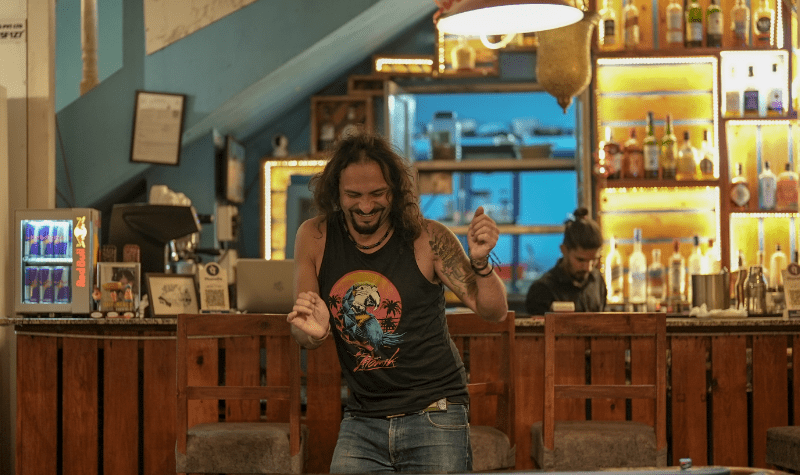 Final Words
Anjuna is a gem on Goa's coastline, offering a range of experiences from vibrant beach parties to tranquil lakeside retreats. Whether you're into trance music, shopping, or simply unwinding by the beach, Anjuna has something for everyone. The above-mentioned places to chill in Anjuna are the best to make your vacations memorable for a lifetime.
So, pack your bags, head to Anjuna, and savour the true essence of Goa's laid-back charm.