Christmas is coming up in a few days, and we've already started making plans. One of the places where Indians celebrate Christmas in great style is Goa. This particular festival has grown popular in Goa as a result of the influence of the west, and many people travel there just for this event.
You may celebrate Christmas and New Year's in Goa among thousands of other visitors while having an excellent time there. You can make your stay at Anjoned Cafe & Hostel in North Goa extremely unforgettable. In addition, you may take advantage of a wonderful setting, multi-cuisine meals, beverages, wi-fi, and much more.
Where to Celebrate Christmas in Anjuna North Goa?
Are you planning to visit Goa this season? There are a total of 400 churches in Goa, you can go to pray in any of them, sit in the middle and watch the fireworks, have a romantic dinner on the beach shacks, and we all know that Goa is famous for its dance parties.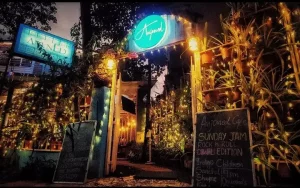 Anjoned gives you a really fitting environment because it is Christmas and everyone wants to feel merry. A few days after the Christmas celebration, the area celebrates the New Year with larger-than-ever celebrations. All of these activities are marketed during this season, and a huge number of tourists are readily drawn each year.
Contact us for more information: +918830203971
Christmas Party in Anjuna Beach North Goa
India's coldest and loveliest month is December. The weather is currently just as beautiful as it has ever been. Outside, sadness is singing, the sun is soft, the ocean waves are playing the greatest, and hearts are closer than ever.
Goa, a former Portuguese colony, is preparing for December 25 as the rest of India is preparing to ring in the New Year. When the entire city of Goa is decked out in lights and decorations for the holidays, it resembles one large carnival.
The sounds of Christmas songs, the perfume of scented candles, and a lot of gift-exchanging characterize Christmas in Anjuna North Goa. Plan a night out with your pals to enjoy the fireworks, church bells, and other festivities.
Best Place to Celebrate Christmas in Anjuna North Goa
Goa also becomes swankier and more vivacious during this specific season of the year. You may immerse yourself in the enjoyment to the fullest and sense the incredible energy in the air. If you are looking Best Family Places To Stay in North Goa then stay at Anjoned, the fun is multiplied and you create an experience that will never be forgotten.
We provide you with the greatest lodging options at a very reasonable cost so you may enjoy them by yourself or with others. Additionally, you get to sample delicious cuisine and both alcoholic and non-alcoholic beverages. If you'd like, you may host a private party here for a few invited guests.
You receive so much more at this hostel facility than just a trip to Goa, so it never seems like a pricey endeavor to you. Not only do you receive an inexpensive stay, but you also get a highly suitable location for celebrating significant anniversaries. Even if there are no festivals, Anjoned will make your trip to Goa unforgettable in every way.
Book Your Stay Now: +918830203971
Things to do in North Goa during Christmas
Were you still working from home when all of your buddies went away for 2 nights 3 days this year? Don't think any longer. Now is the moment to redeem yourself and take that long-awaited vacation you've been looking forward to all year.
This is possible to conclude that there are several outdoor and indoor activities available in Goa. This location is full of adventure, and you will not be disappointed with what it has to offer in terms of activities, wine tasting, food, and so on.
Watersports, sunbathing, hot air balloon flights, cycling on Chorao Island, parties, clubs, Mandovi River Cruise, Spice Plantation Tour, and many more activities are available to make the most of your life.
Is Christmas a good time to visit Goa?
Simple. Be it Christmas or New Year, Goa is a big 'yes'. If you want to party at Christmas, then go to North Goa, otherwise, if you want to enjoy yourself peacefully then you can go to South Goa. Now you can choose how you want to celebrate.
Do you know why more people go there at this time because everyone thinks like us? Everyone wants to celebrate Christmas in Anjuna Beach North Goa and wants to enjoy it there because that place is best for such celebrations.
Final Words
Anjoned Cafe & Hostel in Anjuna Beach is serious about making special events such as Christmas, New Year's, birthdays, anniversaries, and other personal celebrations. We provide the ideal venue for you to enjoy the most exciting events with your loved ones. With bright, great taste and lovely music, we make every occasion memorable.
If you have any plans for the holidays or the new year, come to Anjoned to make them a reality. Anjoned is the Best Place in North Goa to Celebrate New Year. We guarantee that you and your loved ones will have an amazing time.
Contact us: +918830203971