No matter you are a party freak or like to spend a private vacation in Goa you can experience both. In this small state of India, there are more than thirty-five beaches. It is a place where everyone can immerse themself in different activities like beachside parties, water sports, shopping, and more. To spend your vacations there are many affordable private rooms in north Goa for your budgeted beach holiday.
In today's generation scores of people like to travel solo and want to explore more in a pocket-friendly budget. There is no need to worry whether you are a solo traveler or traveling with your loved ones. You will get a variety of budget-friendly private rooms in backpackers hostels in north Goa. People think that hostels are only for the bachelor's because of mixed dorms but lots of hostels provide affordable private rooms in North Goa. In this blog, we will investigate some of the best hostels in Goa near the beach with private rooms. Where you can spend exciting vacations with your loved ones.
Hostels with Private Rooms in North Goa
1. Anjoned Hostel & Cafe:
This is one of the best hostels in Goa situated near Anjuna Beach. Here travelers will get all the necessary luxuries within a pocket-friendly budget. Every second person likes to live in a private room. By keeping this in mind they offer the choices of rooms in which you can book an affordable private room in Goa or a mixed dorm. On this property, guests can enjoy various activities like indoor games and live music. To ends your day perfectly you can sip a drink of your choice whether is alcoholic or not in the hostel's cafe cum bar.
Call/Whatsapp Now to Book Your stay: +918830203971
2. Sort By Stays:
No one wants to stay in an ordinary hostel when they are on a Goa trip. To rejuvenate your soul this hostel is situated near the beach we can say that a beachfront hostel in Goa. In this hostel, there is a chance to get your travel partner because there is a common area where you can spend your time and meet with other guests. If you choose this hostel you will get many facilities like free wifi, parking, and more. The location of this property is near Anjuna Beach where you can easily access the beach without hiring public transport.
Book Your stay: +91 9561325483 | Website - https://sortbystays.com/
3. The Bucket List Hostel:
In this hostel in Goa near Vagator Beach, guests can hire a vehicle from the reception. There are choices in vehicles like motorbikes, cars, and gypsy. If we talk about the check-in timings then it is 9:00 to 23:00. You can assess the other services like taxis, laundry then the staff of this hostel will arrange it for you on demand plus service charges. In this hostel, guests can enjoy the drinks and music but there are no outside drinks, and food is allowed in this property.
Reasons to Choose Private Rooms in Goa
a. Personalized experience:
What affects us the most in common dorms? Whenever we are on vacation everyone wants to spend it properly with hygiene. In private rooms, visitors will get the proper arrangements like a well-settled bed and clean room or washrooms. These are the major issues we have to face in mixed dorms. When we used to stay in private rooms we would get the proper setup and hygiene which fills our soul with positivity. Anjoned Hostel & Cafe provides the best affordable private rooms in Goa.
b. Comfortable and Convenient:
No one wants to leave their comfort zone after a busy day of exploration. One of the main advantages of choosing a hostel with private rooms is comfort. By choosing personal rooms you can live your life in your own way, there is no time limit to stay awake. Guests can able to wear what they want because sometimes it feels awkward when we choose a mixed dorm. By choosing private rooms in north Goa you can have your drinks and do whatever you want like watching movies, dancing, singing, and many more. But in the common rooms, we have to follow some guidelines.
c. More secure:
Everyone carries some gadgets, money, and important documents with them. If we choose common rooms then we always think about security. To resolve this issue you can choose any hostel that offers private rooms in north Goa where you can keep your important documents in a room without any fear of losing it.
Which is The Best Affordable Hostel in Goa With Private Rooms?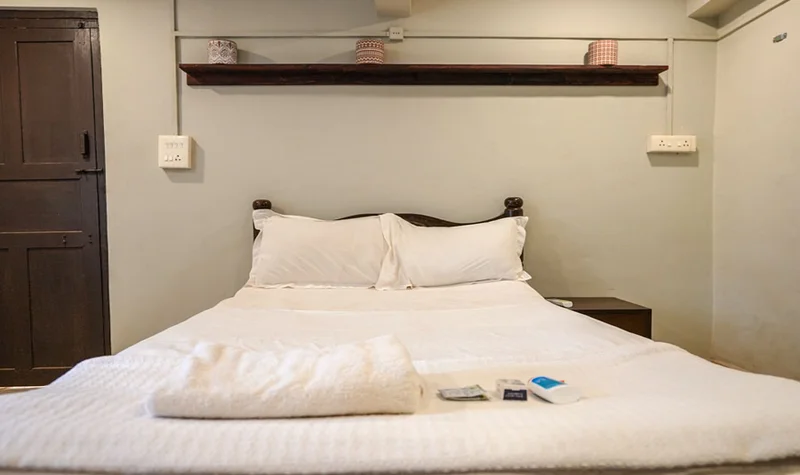 By going through this blog, readers can choose any hostel in north Goa, as they offer affordable private rooms. Anjoned Hostel & Cafe is one of the best backpacker hostel in North Goa, where guests will get private rooms. In this beachfront hostel in Goa, you can spend your vacation in your personal room, which has an air conditioner, a proper bed, and other amenities. Anjoned always keeps their rooms clean and settled, where you will get toiletries, blankets, and pillows. By choosing this place to stay, visitors can explore more because of the location. So if you are planning a budgeted trip to Goa and seeking affordable private rooms, then you must try to book your stay at this hostel in north Goa, near Anjuna Beach.