If you are like the majority of animal owners, you must consider your pet as a member of your family. You must be taking care of its needs and well-being all the time. It's quite obvious that whenever you plan your trip or vacation, you want to take them with you.
Yes!!! it's quite possible as many of the places of stay are welcoming pets along with guests as the number of pet-friendly places has increased considerably.
Goa attracts thousands of tourists from the global level and the culture of pet-friendly hostels in Anjuna Beach North Goa has enhanced considerably. Are you planning to head to Goa anytime soon and searching for a pet-friendly hostel in Anjuna Beach North Goa?
Contact us for more information: +918830203971
Those old days are gone when you will be forced to leave your pet with a sitter in your hometown as nowadays there are numerous options available in Goa that welcome pets and treats them equally as their guests. If you are on a budget trip to Goa and planning to stay at the best backpacker hostels in Anjuna, you need not worry as this blog is a detailed guide about the finest pet-friendly hostel near Anjuna Beach North Goa.
Yes!!! you are thinking it right, we are talking about Anjoned Cafes & Hostel in Anjuna where you can enjoy a comfortable stay and your pet can accompany you along. Let us discuss the things that this pet friendly hostel in Anjuna Beach North Goa offers for pet owners.
Great Amenities Not Only for Guests But Also for Their Pets
Anjoned Hostel & Cafe is known as the best backpacker hostel in North Goa in terms of providing the best hospitality services to their guests. However, the interesting fact is that they also have mind-blowing arrangements to host pets also.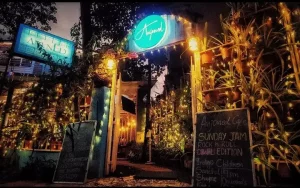 Most pet-friendly hotels provide amenities such as snacks and toys but a handful goes above and beyond to make the entire experience as delightful for the pets as it is for the pet owners. This hostel will treat your pet with the utmost respect and take care of its needs seriously. The amenities that this hostel provided to pets include such as towels, sitters, leash-free play areas, special food, mattresses, blankets, and gift baskets.
Flexible Pet Policy
This hostel is known in the area for its flexible pet policy that attracts many the pet-owners to plan their trip at their property to enjoy their vacations to the fullest along with their pets. You can plan your stay at Anjoned Hostel with any type or weight of pet. However, the condition here is that the pet should not be ferocious or bred which becomes a matter of concern for other fellow guests.
Book Your Stay Now: +918830203971
Rules to Accommodate Pets on the Property
As Anjoned Hostels & Cafe is the best pet-friendly hostel in Anjuna Beach North Goa, there are a few rules that guests must follow. These rules are enlisted below that you must abide by to make your stay comfortable as well as of other fellow travelers.
The pet should not be aggressive or ferocious.
Certificates of recent vaccination should be produced
Pet must be clean
Owners must ensure that they should use designated areas and pet-owner should immediately clean the waste and dispose of it at the designated place.
Pet-Owners will be financially liable if the pet causes any damage to the property of the hostel or any other guest.
Final Words
While concluding our discussion, we strongly recommend you plan your stay at Anjoned Hostels & Cafe if you are traveling to Goa along with your pet. This pet-friendly hostel in North Goa will enhance the experience of your vacation by treating your guest with the utmost dignity. By staying there, you will not be required to get concerned about your pet as the management of this hostel will be taking care of all the things that your pet will need.
So pack your bags and have a great experience at this backpacker hostel along with your pet in a unique manner.
Contact Us: +918830203971