Goa is an enticing tourist destination. This jewel located on the west coast of India is highly famous for its parties and vibrant nightlife. Each year thousands of Indian and foreign tourists visit Goa to attend parties at different places.
Now the time has gone when the night events in North Goa were organized only by the big nightclubs or pubs. It is wrong if you think you cannot afford the expensive entry tickets to these places.
Nowadays, the backpackers hostel in Anjuna has also started to organize night events where you can enjoy dance, food, and everything which you dream of at a party.
Anjoned Cafe & Hostel is one of the best backpacker hostels in North Goa that is known for offering the most acceptable staying place at very affordable rates.
This place is known for offering night parties for their guests on regular basis. On each weekend they organize night events at their hostel to entertain their guests who are staying at their hostel. These night events include movie nights, storytelling, bonfire, music concerts, and disco nights.
In these night events, you will enjoy beyond your expectations and can forget all the negative things in your life. The environment of this hostel is so positive that you will feel a different aura at this place which makes it the perfect place to stay in Anjuna.
If you are concerned about the type of crowd attending these parties, we assure you that the whole crowd will be decent. If you are a female solo traveler, you should not be concerned about your safety as Anjoned Cafe & Hostel is the safest place to stay in North Goa.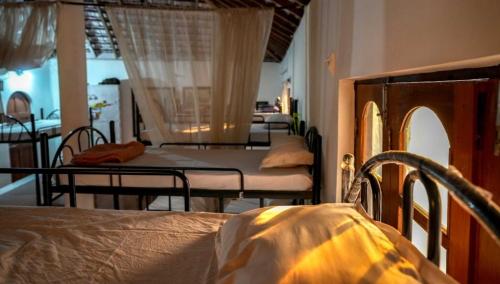 Contact us for more information: +918830203971
Their management is highly concerned about the safety of their guests and they have provided such efficient training to their staff members that they keep an eye on all activities of guests and report any suspicious event to their superiors.
If you would be staying at this hostel, either solo or with your friends, you will get the opportunity to meet other like-minded people with whom you can explore Goa together and can enjoy your vacations.
This hostel offers three types of accommodation shared dorm rooms, private rooms, and family rooms. All these accommodations are equipped with modern class facilities such as a clean bed, linen, ironing board (on demand), air-conditioning and Wi-Fi, etc.
There is also a common area in this hostel where you can spend your free time chit-chatting with other fellow travelers and playing different indoor board games. The common area is also equipped with high-class Wi-Fi where you can also complete your professional commitment if you are doing remote work.
The in-built bar and cafe offer the best facilities at a very reasonable. You can enjoy multi-cuisine food at their cafe as all the dishes offered there are mouthwatering.
We strongly recommend you to stay at Anjoned Cafe & Hostel during your next Goa trip to feel the true essence of this state as it is a budget-friendly place to stay in North Goa. We assure you that you will like their night events and will bring lifetime memories to your home. So pack your backpack and head towards Goa.
Call Us:+918830203971