Are you planning holidays in goa? If your answer is yes then you are planning this either for enjoyment or for peaceful relaxation. Mainly people go to North Goa for enjoyment.
While Goa attracts a large number of people for its beaches and parties, the next question to consider is where to stay. Here, through this blog, we have mentioned some of the Best Family Places To Stay In North Goa:
Anjoned Cafe & Hostel in Anjuna
Anjoned is a short story enchanting voyage steeped in the untainted environment of Anjuna, full of adventure, difficulties, emotions, adventures, joy, music, and dancing.
There is a lot to keep you on your toes at this exquisite vacation, from calm relaxing beaches to well-decorated accommodations, seaside bars, amazing discos, beach cafés, unrivaled hospitality, and water sports.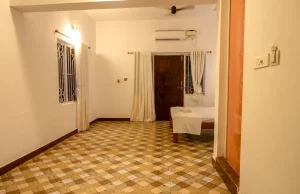 This beautiful Backpacker Hostel in Anjuna Beach is great for families, couples, and lone travelers who value comfort. By staying here, you'll discover Goa in a whole new light, where you may forget about your worries and thoroughly relax your spirit.
The personnel is very pleasant, thoughtful, and benevolent, and they keep an eye on every activity around them to make you feel comfortable and protected.
Live bands, karaoke, and jam sessions add to the atmosphere. Anjoned Cafe & Hostel in Anjuna Beach is always energized by attractive individuals with a delightful atmosphere that fills your heart with enthusiasm; the fantastic bar and disc, as well as the sumptuous surroundings, will undoubtedly win your heart.
With a large selection of alcoholic and non-alcoholic beverages, the bar is ideal for cocktails and discussion. The café stands proud with its menu, delivering delicious cooking methods that will astound you with your appetite.
Contact us for more information: +918830203971
The choice of foreign and national vegetarian and non-vegetarian meals, as well as delectable drinks, will whet your hunger. A great spot for people who wish to take advantage of the new chance to work remotely.
Grand Vatika Resort
Grand Vatika Resort is a tiny paradise that is honored to offer you a pleasant, comfortable, and unforgettable stay with all the amenities such as Natural Wooden Cottages, Bar & Restaurant, Free WiFi Internet, Grand Size Swimming Pool, Fitness Center, a conference hall, and so on. They assure that you have good recollections of your stay by providing all services and attention.
GoSTOPS Vagator
Beautiful beaches, brilliant blue skies, lush green palm trees, and a full-on party atmosphere. GoSTOPS Vagator gets you closer to all of this, transforming Goa into much more than a tourist destination.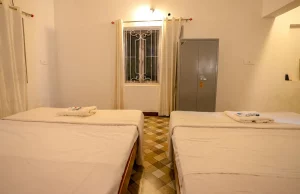 This Backpacker Backpacker Hostel in North Goa, which is about a kilometer from the beach, features a cafe, a lovely garden lounging area, an amphitheater for movie buffs, a workstation, and free Wi-Fi. It also contains a swimming pool where you may dip your toes, splash about, and dive.
This hostel in Anjuna beach North Goa includes various colorful, hip, and pleasant common spaces where you may meet new people, connect, vibe, swap tales, and laugh a lot. With spacious dormitories and private rooms, GoSTOPS Vagator provides the ideal combination of privacy and community.
Moustache Goa Luxuria
Mustache Goa Luxuria provides a magnificent experience that can be shared with family and friends. The rooms provide an air of grandeur combined with comfort.
Mustache Goa Luxuria is one of the best family places to stay in Anjuna Beach North Goa. Mustache Goa Luxuria welcomes you with all the amenities you need to make your stay comfortable. They are carefully created for high-end comfort to make your stay as peaceful as possible.
Doesn't that seem peaceful? But hold on, there's more. Relax in your airy and spacious apartments or swim in the large pool. This hostel near Anjuna beach also features a lovely and modest pool for children, making the entire experience family-friendly.
Book Your Stay Now: +918830203971
Bedrock Boutique Hostel
Bedrock Boutique Hostel Goa has spacious rooms with a youthful style, air conditioning, free internet, en-suite bathrooms, a cinema room, an amphitheater, and a well-equipped kitchen that you're welcome to use for free.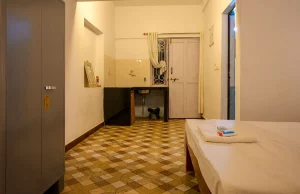 They welcome dedicated travelers and hostel enthusiasts from all around the world. Bedrock hostel represents FREEDOM, MADNESS, and A LOT OF PARTYING. Countless memorable nights, millions of liters of beer, thousands of romances, more than one breakup, and a few lethal hangovers have followed us since the day they opened.
Green Nest Hostel & Guest House
Live in the lap of Mother Nature, surrounded by birds and butterflies. The hostel's rooms are fairly pleasant, with pine wood bunk beds and excellent service.
The Green Nest Hostel and Guest House is bordered by coco grooves and trees such as mango, cashew, and banana. It has a good feel and plenty of places to hang out. Board games such as Chess, Dominoes, and Carrom are available.
If you're seeking the Best Family Places To Stay In North Goa, Anjoned Hostel & Cafe should be on your itinerary. We can assure you that the services supplied by this hostel near Anjuna beach will captivate you. So, let us organize your vacation to Goa so that you may fill your head with endless memories to treasure.
Contact us: +918830203971