Goa is one of the most visited tourist destinations in India that is known for its beautiful sun-kissed beaches, charming nightlife, adventurous water sports and cultural heritage. Due to so many activities to enjoy, vacations in Goa will be always rejuvenating & refreshing.
The flea markets, never-ending parties and the local food are some of the things to do in Goa. If you are also one of first time visitors to Goa, you would like the charm and vibes of this smallest state of India. However, it is essential to stick to some of the tips to make your vacations more memorable.
This blog is the ultimate guide for first time visitors to Goa which will surely help you if you are planning a trip to Goa anytime soon.
Contact us for more information: +918830203971
Best Time to Visit Goa
Although Goa's vibes can be felt in any month of the year, choosing the best time to visit Goa will enhance the fun of your vacation. Majorly three seasons in Goa are summer, monsoon and winter. In the summer season that starts from April to May, there would be a high temperature that would go around 40 degree Celsius and the scorching heat will become unbearable.
The monsoon season which starts from July till September is also an off-season for tourists. Goa experiences moderate to heavy rainfall and during this season, water sports activities get halted.
The best time to visit Goa is between November to March as this is the peak season for tourists. December and January remain the busiest months when Goa remains packed with tourists and party vibes at Goa are at their peak. Many famous festivals are organized during these months such as Christmas parties, New Year Parties, Sunburn Festival etc.
Book Your Stay in Advance
Irrespective of the fact in which month you are visiting Goa, we recommend you to do your bookings in advance to avoid any last-minute hassle. There are various types of accommodation available in Goa such as backpackers hostels, resorts, homestays, hostels etc that you can book as per your budget & required amenities.
Goa has become a hub for backpacker travellers. If you are also on a backpacker trip to Goa, we recommend you plan your stay at any of the backpackers hostels in North Goa as Anjuna & its nearby area is heaven for such types of travellers.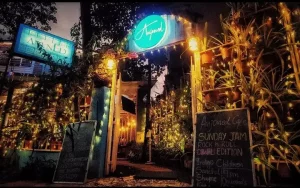 We can recommend you to stay at Anjoned Hostels which is the finest Backpacker Hostel in  Anjuna Beach, North Goa that offers a wide range of accommodation options at very affordable rates. Due to its high-class amenities, this property always remained packed with travellers, hence we advise you to do a booking to confirm your stay at this fascinating place.
North Goa or South Goa?
Every traveller has this question in their mind which is the better place to enjoy your holidays in Goa? Is it North Goa or South Goa? Well!!! The answer to this question is not as simple as it appears because the answer would differ from person to person.
North Goa will be a perfect place for you to enjoy your Goa trip if you love parties, try your luck at casinos, want to chill out in cafes and add some adventure through the thrilling watersports. Most of the tourist head towards North Goa due to the availability of various activities to enjoy.
On the contrary, if you want to spend your vacation at a peaceful location which is away from the hustle-bustle, you must head to South Goa. This part of Goa is peaceful where you can relax and spend some quiet time with your family members or loved ones.
So the choice is yours as you have to choose the place as per your preferences and how you want to spend your vacations.
How to Reach Goa?
By Air: Goa is having an international airport that has connectivity with all the major cities of India as well as various countries. You can reach Goa by taking a flight. The peak season tickets would be costlier compared to the off-season.
By Road: Goa is well connected by road and regular buses ply from various major Indian cities such as Mumbai, Pune, Bangalore, Hyderabad etc.
By Train: The rail network of Goa is also strong as it is connected from almost all parts of India. The major stations in Goa are Vasco Da Gama, Margao and Thivim.
Book your stay now: +918830203971
Places to Visit in Goa
There is an ample number of places that you can visit as a first-timer in Goa. The below list is not conclusive and is just a way to assist you in filtering the places you must visit in Goa:
Beaches of North Goa such as Anjuna beach, Vagator beach, Baga beach, Candolim beach etc.
Visiting local markets for shopping such as Anjuna Flea Market.
Basilica of Bom Jesus
Aguada Fort
Spend a beautiful evening at a cafe in North Goa.
Try your luck at the casino
Enjoy the nightlife of North Goa by attending a party at a nightclub.
Final Words
After reading this guide for first time visitors to Goa, you must have got some idea of how to plan your trip, where to visit and where to stay in Goa. Heading to Goa with proper planning and basic knowledge about the state will enhance your fun at the place too many times.
If you want to feel the real essence of Goa economically, we again recommend you plan your stay at Anjoned Hostels & Cafe as this is one of the budget friendly hostels in North Goa offering the real vibes of Goa. The cafe of this property is a famous cafe near Anjuna beach where you can satisfy your taste buds without making a hole in your pocket.
So, pack your bags now and head towards Goa to gather some best of the memories of your lifetime.
Contact Us: +918830203971