Beaches in South Goa:- The entire state of Goa is full of beaches and gives you a perfect coastal treat with lots of fun, exotic food, parties, nightlife, and water sports. With so many things to experience, Goa becomes the go-to destination for youngsters who want to spend lively time with their friends and loved ones.
If you stay in Goa near Anjuna beach, you get a chance to explore many other beaches in South Goa. In the previous article, we covered the beaches of North Goa and told you their highlights. This piece is dedicated to the beaches of this particular region that have been drawing thousands of tourists with their unique attributes.
Beaches in South Goa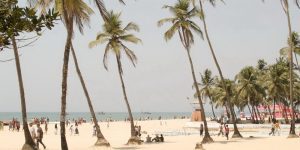 1. Colva Beach
This is one of the most celebrated beaches in South Goa which is prominently known for its finely grained white sand. It spans across a stretch of 25 kilometres and becomes a very scenic location for everyone. Flanked by coconut trees, this gives a perfect landscape view of the whole place.
Among the place to see, you have the Menino Jesus statue and some famous restaurants that offer scrumptious food. You can also enjoy a range of water sports and have a fun-filled time while seeing the greenery and water all around.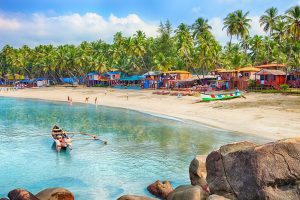 2. Palolem Beach
Known as one of the sandy shores that have been untouched tourists exploit, this beach helps you have a perfect time. Along with water and sand, you also get to see scenic rocks that amp up the beauty of this place. A small part of this beach is called green island and is also considered a great destination for couples.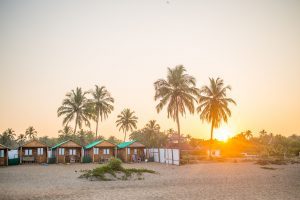 3. Agonda Beach
Besides chilling on the shoreline, you can also enjoy swimming and sunbathing. It is just a 90-minute drive away from Dabolim airport and becomes a favourable place for people who are looking for solitude. It also becomes the habitat for the endangered Ridley turtle.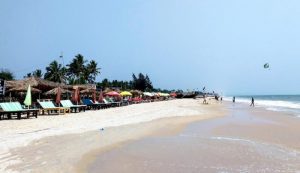 4. Benaulim Beach
This one is known as one of the most wonderful beaches in South Goa amaze visitors with sun and greenery. As per Hindu mythology, this place was formed after an arrow shot by Lord Vishnu landed here. On the top of the hill on the beach, you can visit St. John the Baptist church.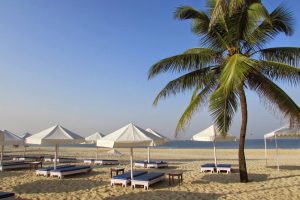 5. Mobor Beach
Mobor stuns you with its stellar location and draws many adventurers from all around the world. It is a 30km beach strip situated on the delta of River Sal that merges with the Arabian sea further. You also find a national park here that garners a large number of lillies and coconut palms.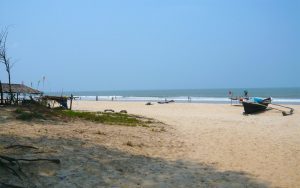 6. Varca Beach
The experience of Sunbath gets sublime at this beach and it's just 2 km far from Benaulim beach. Even with a large population of fishermen residing here, the beach is exceptionally clean and beautiful. It is considered one of the best locations for enjoying your leisure trip.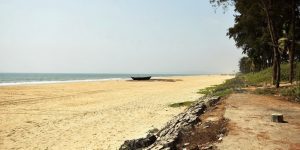 7. Betalbatim Beach
Get delighted by the golden sand and beautiful coconut palms on this beach. It is also known as Sunset Beach and gives you a chance to do dolphin spotting. For a number of reasons, the beach remains unaffected by wind and the temperature is pleasant and bearable even at the peak of the summer.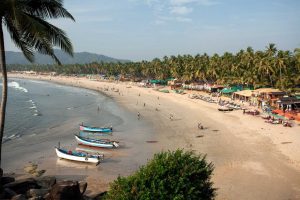 8. Majorda Beach
The sandy shores of this beach are not just exquisite, but give help you see the real beauty of this state. The palm groves add a perfect appeal to the ambience and make this spot perfect for spending a pleasant day. And this is another beach with which a legend of Hindu mythology is associated. You will find the restaurants and resorts to enjoy your vacation to the fullest.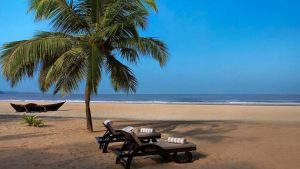 9. Cavelossim Beach
The shoreline of this beach adds a unique differentiator with paddy fields. It makes the whole place amazing and gives a very distinct disposition to this beach. The ocean and the lovely beach make your trip memorable in every possible manner. You can also try sailboat cruising, kayaking, and a visit to the yellow church of the Holy Cross.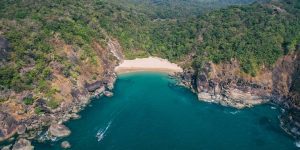 10. Butterfly Beach
If you're wondering why this beach is called Butterfly just look at any of its images over the internet. The dense forests make this destination even more amazing and help you feel surrounded by the nature. It becomes a perfect destination for honeymooners as the beach gives you solitude and a scenic setting.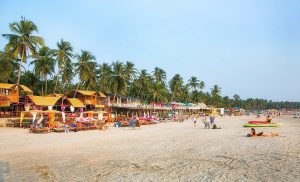 11. Patnem Beach
The beach is corralled with trees and gives you a perfect visual treat that you cannot forget. It is especially very popular ayurvedic massage, yoga, and cooking classes. Also, the shacks serve excellent food and please your taste buds with the most scrumptious food items. You can also enjoy shopping for hippie clothes, jewellery, and other accessories here.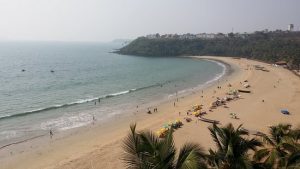 12. Bogmalo Beach
The variety of stones on this beach will certainly give you a visual treat along with peace and tranquillity. Also, you get to relish authentic Goan cuisine in the restaurants here. You can also visit the famous local pub and enjoy a perfect time with your friends and loved ones.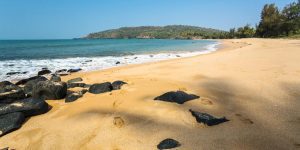 13. Polem Beach
The golden sand of this beach will amaze you and the palm trees will welcome right the entrance of this beach. It is a perfect destination where you can spend a lovely vacation and also experience solitude as the beach is mostly less-crowded. On this beach, you can have a relaxing vacation and make every moment unforgettable.
Read More:- How Many Beaches In North Goa?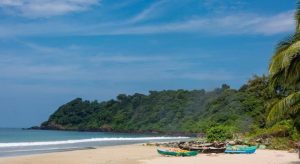 14. Talpona Beach
Here's another beach that is known for being silent. But it makes up for that with natural beauty that you cannot get your eyes off of. The beach is the epitome of beauty and it amazes you with a quintessential setting. You can find cosy cottages for a stay and enjoy the pleasing sunsets every day.
If you are planning to visit any of these beaches of South Goa and looking for a cheap stay, then book your room with Anjoned café & hostel. We also deliver matchless facilities like multi-cuisine food, wifi connectivity, drinks, and an ambient setting for parties.
For book your room in advance in North Goa make a call now - +918830203971