Goa has become one of the most preferred tourist destinations in India. Every tourist enjoying his vacation in India be it a domestic tourist or an international tourist wants to visit Goa at least once.
Goa is such a paradise which is a perfect tourist place for all types of lovers. Even if you are a party animal or natural beauty lover or have an interest in cultural heritage, this beautiful state located on the Arabian Sea coast offers an ample number of tourist places.
Some of the must-visit attractions in North Goa include the Basilica of Bom Jesus, Palolem Beach, Anjuna Beach, Vagator Beach, Chapora Fort, Anjuna Flea Market, Doodhsagar falls and many more.
If you are planning to visit Goa anytime soon and find a Backpacker Hostel in North Goa, we are providing you with the list of the top 10 best places to stay Near Anjuna Beach North Goa. Here we have included the hostels of North Goa only as this part of Goa is more happening as compared to South Goa.
Anjoned Cafe & Hostels in Anjuna
A paradise in itself is the Anjoned Hostel. Compared to other backpacker hostels, Anjoned is one of the Best Places To Stay Near Anjuna Beach North Goa. it consistently has a competitive edge regarding location, amenities, and hospitality services. This hostel offers private rooms, family rooms, and mixed-dorm rooms. Therefore, this hostel is the best choice whether you are a solo traveller, travelling with family or friends, or both.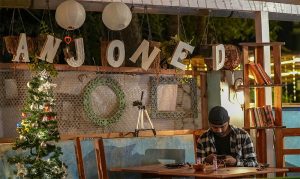 The prices for lodging at this hostel are affordable and won't break the bank. Clean linens, bunk beds in the dorm, king-sized beds in the private rooms, air conditioning, and free Wi-Fi are just a few of the luxurious amenities found in each accommodation.
Contact us for more information: +918830203971
Additionally, there is a common area where you may unwind and mingle with other travellers who share your interests. It suggests that you would have the best chance of making new friends there.
The location of this hostel is the cherry on top because you can walk to the well-known Anjuna beach and the Anjuna flea market. The most popular area in Goa, where you may visit the city's well-known nightclubs, is where this guesthouse is also situated.
In Goa, food is generally pricey, but the cafe in this hostel is quite reasonably priced and serves up delectable dishes from all over the world. In their bar, you may also partake in regional and foreign libations.
The Hosteller Goa
It is also one of the top hostels for travellers in North Goa, and it is close to Anjuna beach. The well-known Calangute beach is only 2 km away from our guesthouse, and the Anjuna escape point is conveniently close by. There is free WiFi available, and there is a garden area where visitors can unwind.
Craft Hostel
The location of this hostel in Anjuna North Goa. This hostel is around 100 metres from the Anjuna flea market and 2.5 kilometres from the renowned Calangute beach. There is a garden at this hostel where you may unwind and take in Goa's natural beauty.
The Yuppi Hippi Female Hostel
This hostel is just located 500 m away from Anjuna Flea Market. Since it only welcomes female visitors, it stands out on its own. From here, you can enjoy stunning sea views and a lovely terrace.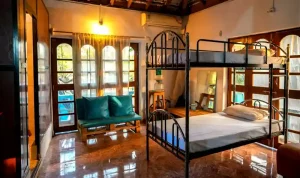 This place is one of the best places to stay Near Anjuna Beach North Goa for female travellers where they can feel safe and secure. You will be staying here in dorm rooms with other fellow female travellers with whom you can become friends.
Pappi Chulo Hostel
A perfect hostel in North Goa where you may have a great time and take in the atmosphere of Goa with a lot of other travellers. Additionally offering an economical option, Papi Chulo has grown to be a popular choice for both solo and group tourists.
It provides you with all the amenities, including delicious meals, a bar, and a sizable lobby where you can socialise while taking part in a variety of different activities.
Book Your Stay Now: +918830203971
Happy Panda Hostel
You can feel the positive vibes by staying at this hostel. Both the hostel and its name have positive energy. With dorms and rooms set out in the style of cottage dwellings, this hostel has been giving visitors a wonderful experience.
It creates the ideal aesthetics and a very friendly environment for you. You may have a great time at this hostel both with your friends and by yourself. You can locate all the amenities, and they are all kept up properly.
Funky Monkey Hostel
Your stay is made pleasant by the Funky Monkey Hostel's lush surroundings. For those looking for some peace next to some vegetation, it is the ideal location. Additionally, the property's exterior is lovely, with a rural setting that entices you more than anything. You receive dorms, rooms, food, beverages, and an incredible location that makes your stay special.
Dreams Hostel
This hostel is also one of the best hostels in Anjuna Beach North Goa. You will get astonished by Dreams Hostel's distinctive design. The entire hostel is built with a village motif, and the surroundings are designed to make you feel more connected to nature.
You have access to all the amenities, including shared and private rooms, meals, drinks, and a common area for relaxing. Everyone is attracted to the architecture and style, and it provides for its visitors fairly effectively.
Bucket List Hostel
The motto of this amazing and vibrant hostel in Vagator, Goa, is "Turn Moments Into Memories." Many travellers who book this hostel stay longer than expected because of all the fun events and meets it offers.
You can expect fun activities at this hostel in addition to accommodation. You can play indoor games, relax on the terrace and do chit-chats with other fellow travellers.
Jungle by Hostel Crowd
JUNGLE had to be included in the list of top hostels in North Goa. With a cosy common space, a sizable garden, and a variety of activities, this old Portuguese house now offers all a hostel should offer.
If you're travelling alone through India, this is the ideal location. Yoga sessions in the morning, hostel meals, and events all add to the best backpacker vibe ever.
You can choose any of the aforementioned family places to stay in North Goa as all of them offer the best amenities for very reasonable prices. We ensure you that staying at any of these backpackers' hostels will add stars to your overall Goa vacation.
Contact Us: +918830203971