Goa is India's smallest state in terms of area, but it is also one of its most beautiful. With 105 kilometers of beautiful coastline, it has a beach for everyone. From the backpacker hotspots of Arambol and Anjuna in the north to the vibrant yet laid-back Palolem in the south and the package holiday resorts of Baga and Calangute, you'll be able to find your ideal beach.
Goa, in my opinion, is one of the finest places in India for backpackers. It's simple to cross paths with other travelers, it has a lively nightlife scene, and it's simple to get around.
The best place for Backpackers in North Goa.
North Goa is having more fun activities in a cheaper manner as compared to other South Goa. Beaches such as Anjuna and Vagator are unique in themselves where you can attend night parties at famous clubs and can enjoy the never-ending fun.
Contact us for more information: +918830203971
Some of the things that you need to know before the Goa trip as it will make your vacation more memorable. Through this blog, we will talk about certain important things that you must be aware of before your backpackers trip to North Goa.
Best Time to Visit North Goa
From November to February, Goa's weather is generally dry and warm, making this the best time to visit Goa. This is also peak tourist season; if you visit during the off-season, you may not have as much to do.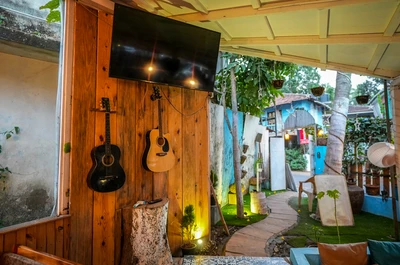 However, during Christmas, and New Year's,  prices will skyrocket and lodging will be scarce. Goa trip should be avoided during this time unless you want to spend Christmas and New Year's there.
There are also many Indian public holidays, which will likely send a large number of people to the beach for a few days. You should also avoid the summer months of March to June as the temperature here will go high which can hamper your plans. If you want to enjoy the rain while sitting on the beach, you should visit in the monsoon months of July-September.
Best Beaches in North Goa
Anjuna Beach
While Anjuna doesn't have the most expansive beach in Goa, it does have plenty of charm. You'll enjoy the laid-back atmosphere, where the best backpacker hostels in North Goa, coffee shops, bars, and restaurants will add stars to the beauty of this beach.
Vagator Beach
Vagator has a beautiful shoreline with white sands and clear blue water. There are red soil cliffs and palm trees. The rave culture is well-known on a rocky and isolated beach. Previously popular with foreign tourists, it is now popular with Indian tourists.
Where to Stay and Eat in North Goa
Whenever you plan a trip to Goa, the major time-consuming task would is to find the best place to stay in Goa. We recommend that Anjoned Hostel & Cafe is the best backpacker hostels in Anjuna Beach where you can stay at very cheap rates.
This hostel offers high-class amenities such as a common area, fun activities, and high-speed Wi-Fi which would be adding stars to your trip.
You can also enjoy the mouth-watering global cuisine at their in-built cafe at very affordable prices.
Call Us:+918830203971