Beachland Goa is a blue eyed boy of Indian tourism and a sojourn destination which is favourite of number of people around the world due to its pristine beaches. Choose best backpacker hostel in Anjuna for your next Goa trip
This southern Indian destination has a unique charm, Portuguese-influenced culture, and is place of beautiful beaches, epic raves, and a friendly backpackers' scene.
Planning to explore Goa, Want to double the fun?
Definitely one should try something amazing & new by staying at any coolest backpacker hostel in Anjuna Goa. Whenever Goa comes in mind, Backpacker & Hostels will come first in front and it is really astounding to stay in hostel.
Hotels in Goa are rejuvenates you and add unique travel experience in your journey diary therefore you absolutely shouldn't miss out on.
Reasons to Add Hostels in your Goa Tour
Make New Friends
If you love to meet new people Goa is perfect pick of the bunch, where in hostels you share a common roof with people from different culture and share experiences. It will give you a unforgettable lifetime experience.
In Goa specifically numerous backpackers hostel visit every year and meet other fellow backpackers, chill out at beaches, shop and party till sunrise. Goa is one of the places in the country with a distinct hippies vibe.
Switch On your Party Mode
Goa is one & only destination type of itself where numerous Groovy people or tourists, solo travellers, hippies, and backpackers frequently visit from all around the world. Straggling beaches always dance on their on beats and fascinate more travellers every year.
When you are in group, it doubles the joy, hostels provide a space where you can enjoy boundlessly & go off the beat on tracks while day or nights. Set your party hats on and enjoy nightlife of Goa. Many hostels have amazing in-house bar and party floor to dance like pro. Other than this there are so many big band parties, carnivals arranged at beachside, hostels share the pleasure with them by arrangements.
Enjoy All Comforts
Hostels in Goa are known for their amazing hospitality and amenities. Top rated hostels offers clean beds along with unmatched services in comfort. Luxury rooms, each have their own scenery view
Dorm facility offered by distinct hostels which is much appreciated and liked by backpackers. Mix dorm to private room all available in hostels and people to stay under a common roof.
Read Also: Anjoned Cafe & Hostel- Experience the Difference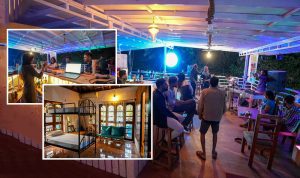 Experience Goan Life Through Local Lens
If you want to try out something new & exciting away from nightclubs and beaches like The bird sanctuary, the e-bike ride and the feni tasting experience then hostels in Goa with their management and staff ready to help with anything, and truly brings it alive with lots of stories, including personal connections. They will make sure your journey is nothing less than exhilarating and liberating.
They will share detailed guidance to travellers who wants to see the real beauty of Goa to take up this excursion. You will find yourself in a completely new place at Goa which you never knew existed till now.
Appetizing Assortments
Every Good hostel in Goa is well known for their multi-cuisine and specialised in Goan dishes. If you're a brunch person by the day and wine lover by the evening, pick this laidback spot to enjoy the beach.
Thereis more on Goa's platter than just hot and spicy kokum-and-coconut spattered curries and gooey desserts. Succulent food serves in modus operandi which will amaze you appetence. Variety of international & national veg-non veg food with luscious drinks will summon up your appetite volume.
Fell Safe & Home like Stay
Hostels in Goa are home like stay where distinct people shares same roof and everything will you find near you. Vast experiences and stories you share here with newly made up family of friends.
If you are a women and travelling solo than there is women's dormitory available in hostels and even you can book private rooms as well. Hostels keep track of complete security and safety of your stay just to make you comfortable.
Happy Budget Stay
Most important and considered factor, that hostels are fair priced and convenient stay in Goa. Every solo travellers or backpacker Hostel always concerned about budget, so hostels is the first choice for them to stay.
Hostels in Goa are offering resort like facility and services within very pocket friendly budget which attracts more travelers. Hostel is ideal for families, couples, and solo travellers who make comfort a priority. The high speed working Wi-Fi, the air conditioned room is very relaxing to work on with gratifying hospitality.
Anjoned Cafe & Hostel is a top notch locale dwelt at Anjuna Beach in North Goa and well known cafe in anjuna for amazing ambience and services.
If you are visiting Goa any time soon, put your party hats on and get the Anjoned Cafe & Hostel. You will set foot in an opulent that is forever buzzing with exhilaration.
Call Us:+918830203971